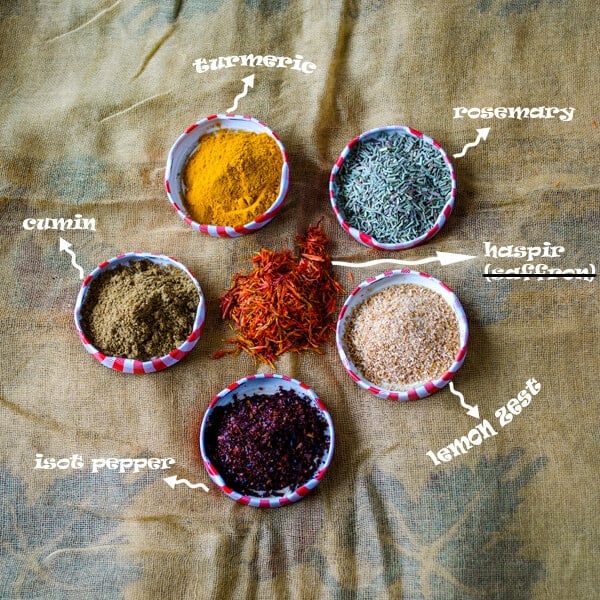 I love to combine different spices when cooking! I can discover new seasonings and flavors each time. Right, I'm an adventurous cook! I can't imagine that all spices are removed from dishes, can you? They help other flavors to stand out! There is absolutely a big difference between plain chicken-turkey-beef-lamb or veggies and their seasoned versions. You don't have to add a lot from your favorite spice, even a pinch of it could make the difference. So the amount is up to you, but spices are must!
I have so many different spices in my kitchen, but I'm going to talk about 6 of them here. I'm planning to share the others later. 3 of these spices are the ones I've been using for many years, and the other 3 are my new stars in the kitchen. Cumin, isot pepper and turmeric are like my old friends, but I don't have a long history with haspir, rosemary and lemon zest.
I can say that cumin is my favorite among all because I have it with my egg every single morning! I have one egg, either boiled or scrambled every morning and enjoy it with a little cumin on it. If you haven't tried cumin with egg yet, you must definitely give it a try! I can use cumin in any dish from beef and chicken to veggies and legumes. It is a must with especially legumes both for its flavor and its health function. Did you know cumin can prevent tummy troubles that beans and chickpeas might cause?
Among these different spices, isot pepper is the most ethnic one. You can't find it everywhere even in Turkey. Yes, there are packaged versions at markets, but they are not the same with the original one. Isot pepper is also known as Urfa pepper as it is produced in Urfa, a city in the east of Turkey. It has a unique flavor and smell, and it is so different from paprika or chili. Once you smell isot pepper, you are tempted either to eat or cook something! It is that sinful! The most famous dish in Turkish cusine containing isot is Uncooked Kofte (cigkofte). This is the spice making this kofte that irresistible! I use a little isot in chicken and meat dishes to give them an appetizing flavor.
Don't you think turmeric is like the super star among these different spices with its vibrant color? Although it's not that common in Turkish cuisine, I try to use it often because I know it has so many health benefits and I admire the color it gives to dishes. I make these Turmeric Buns quite often. These bright yellow buns always rock on a breakfast table!
Haspir is my newest spice. It is a special spice from Antep, another eastern city of Turkey and a friend from that city introduced it to me. People there use it in several local dishes, especially in soups. When you see it in the picture, you might think that it is saffron, but it's not. They are so much alike, but they are different spices. It is difficult to differentiate between these, and some shops might sell it with the name saffron. The thing is, saffron is so expensive while haspir is affordable and some spice shops make use of it, so you must be careful when buying it. Haspir also gives its nice color to dishes but not as much as saffron. I learnt a recipe of baked potatoes with haspir from a spice shop owner and a very tasty and flavorful dish came out as a result. I'm going to share it later.
Dried rosemary is a gift from mom II(mother-in-law). She says I must use it in meat dishes, it is as good as thyme, which we always use with meat and chicken. As I do love the fresh one, I was easily persuaded and started to use it in dishes with beef and lamb. I must say that fresh rosemary is way better than dried one, but it's a good alternative when you can't find it fresh.
Lemon zest has a different story. My parents are living in Tarsus, Mersin, famous for its citrus fruits, and they send a big box of lemons from there every year. They smell so good even before they are cut! My husband Yusuf is always tempted with their smell and he loves to eat them with their zest. He discovered this dried lemon zest last year on a day when we had lots of squeezed lemons. You can learn How to Dry Lemon Zest from him. You can have them in big pieces or pounded. We use the bigger version in fruit tea, and the pounded one in chicken dishes. It gives a very nice refreshing flavor!
What do spices mean to you? Do you love to use them in your cooking too?