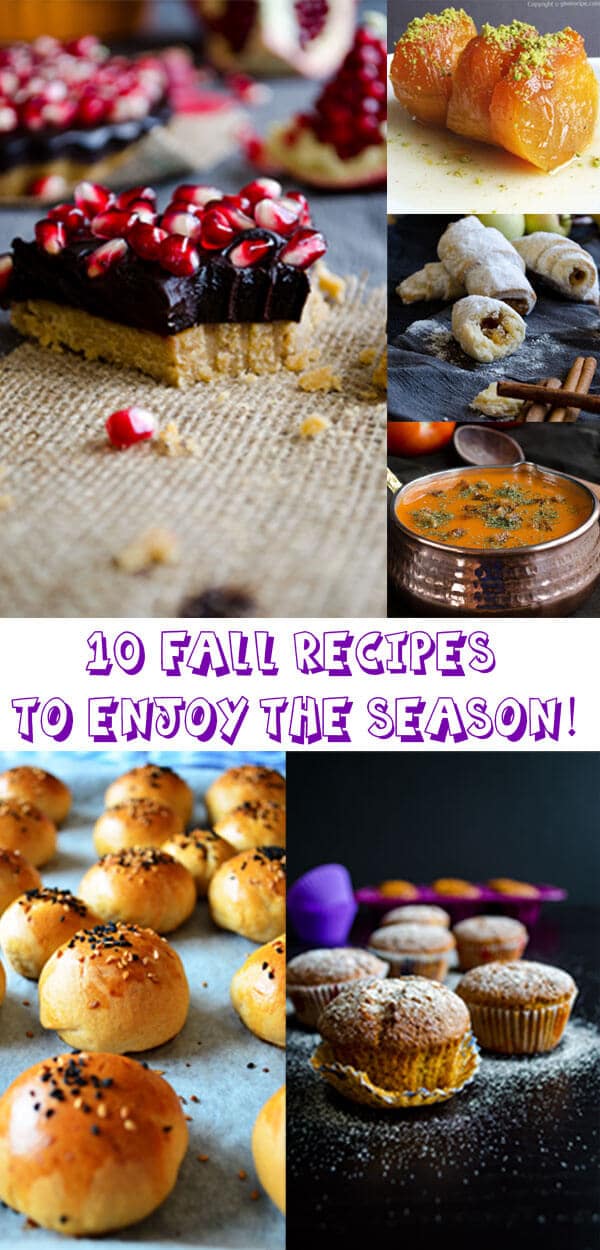 Fall is my favorite season and I think it's a time people like to eat and cook more. Fall is such a great season that you don't complain either about cold or hot weather. This makes me feel even closer to cooking and baking. I can spend the whole day in the kitchen in Fall. You can find me either baking something sweet to serve in the afternoon or preparing something for the coming winter. I wanted tos hare my favorite Fall Recipes with you in this post. Hope they help you enjoy the season as much as I do!
My top 10 Fall Recipes contain not only treats to serve with tea but it also has some recipes to get ready for Winter. Do you feel like baking bread more in Fall? Do you think apple is one of the best Fall fruits? Do you feel like the time for soup has already come? Continue reading the post and checking out the recipes if your answer is yes to all these questions!
No-bake Chocolate Pomegranate Tart: Chocolate and pomegranate are the best couple of the season! It's so easy to maket his irresistible looking tart since you don't need to bake it.
Pogaca with Beard: If you love to bake breads in Fall more like me, give these small buns a try! You can make mini sandwiches with these cotton soft buns!
Apple Muffins: These are so healthy as the recipe calls for whole wheat flour and olive oil with decent amount of sugar. These are so fluffy too!
Fudgy Apple Brownies: An amazing moist layer is waiting for you in these brownies! These will become one of your favorite chocolate brownies!
Cinnamon Walnut and Apple Rolls: You will feel the wonderful combination of apple, cinnamon and walnuts in these rolls! A typical Fall Recipe in Turkey. These are the best with Fall apples!
Pumpkin Dessert: This is one of the most well-known Fall Recipes in our cuisine. Pumpkin is mostly used in this dessert, it's like the ultimate pumpkin recipe! This is a very simple dessert with just two ingredients, but so addictive!
Egg Stuffed Tomatoes: Fall tomatoes are the last tomatoes with real tomato flavor here before Winter. As a big fan of eggs, I love to make something with eggs in Fall and this is a great recipe to combine the two.
Roasted Tomato Soup: This is another recipe to use the last tasty tomatoes of the year. You should give a start to soups since it's getting cooler and cooler. You will probably not able to find delicious tomatoes in winter, so try this season before winter!
Homemade Tomato Paste: This is one of the best Fall Recipes! Who wouldn't like to preserve tasty tomatoes for winter? This tomato paste makes your winter dishes even yummier!
Homemade Lemon Jam: This jam is a great sweet preserve for winter since the scent of lemons in Fall is irresistible! You can have this lemon jam either as it is at breakfast or in your cakes and cookies.