See how these Chewy M&M Cookies are so cute? I saw them in my dream the other day exactly this way and I already planned to make these at breakfast yesterday! I was so inspired by my dream that my last words before leaving home for work were "I'm going to make rainbow cookies tonight!" Do you know that feeling?
I don't know if I was inspired by Jessica's Giant Rainbow Cookies! Her cookies are amazing, check it out!
Well, we call these mini colored candies bonibon in Turkish, which is the name of a brand. However, when I searched for these candies, I saw that the most famous brand abroad is M&M, so I will call them with that name in this post.
I didn't have an exact recipe this time, and I had these in my mind all day trying to decide what ingredients to use. I was sure about the candies though! I would use chocolate for sure! Mini rainbow like candies were in great harmony with the color of chocolate in my dream.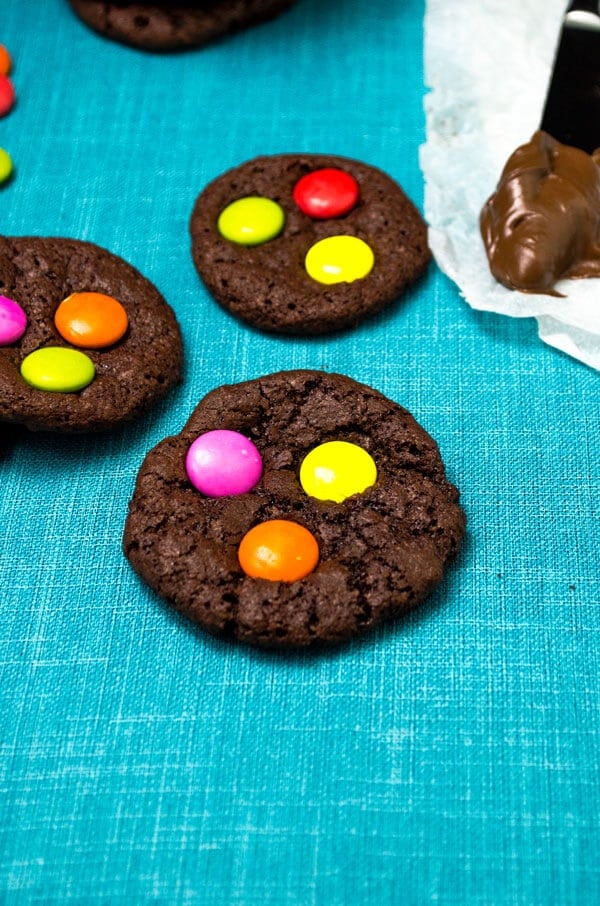 I was like counting the hours until I came back home! I could almost feel the smell of cookies when baking. M&M Cookies in my dreams, feeling their smell even before baking, are these because of my pregnancy?
Anyway, I checked my pantry and saw some bars of chocolate, but I thought these wouldn't be enough for the flavor I was looking for, so why not add some nutella too?
I put all ingredients on the counter and I was ready! Almost! I thought how I would top my Chocolate M&M Cookies with bead like m&m candies all the way home, but I realized that I forgot to buy them! It was raining heavily outside, but nothing could stop me from going and buying my precious mini m&ms!
I was so curious about the result, so it was really hard to wait for 15 minutes after I put them in oven!
I had to wait 15 minutes more after taking them out so that they can get cool enough to taste. I closed my eyes after finally I got the first bite and it was even better than the ones in my dream! It was gooey and chewy enough and the flavor of chocolate was just perfect! M&Ms on the top made my cookies more cute, and they brought back some lovely childhood memories! I think these M&M Cookies will be my second favorite after these fig and walnut cookies!
I made about 100 cookies with these ingredients and I decided to take most of them to my colleagues at school. I guess they loved these Chewy Chocolate M&M Cookies as much as I did since they wanted the second!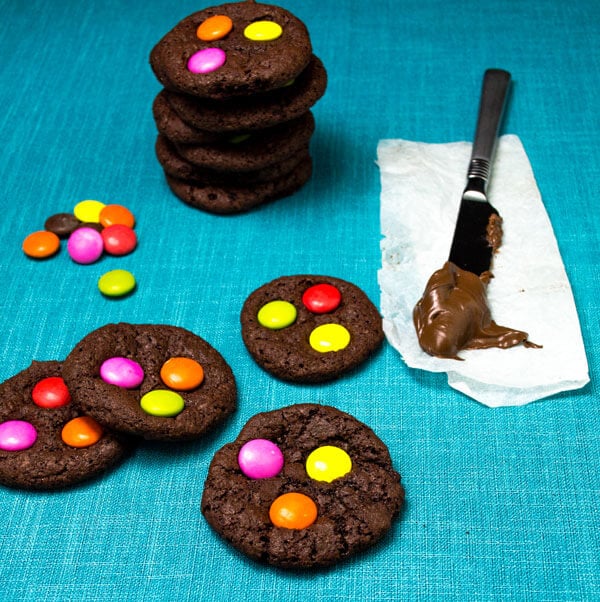 These cookies are perfect to dip into milk! Can't think of any better combination!
See our other chocolate recipe videos here:

Print
Chewy Chocolate M&M Cookies
Chewy Gooey Chocolate M&M Cookies
Prep Time:

20 minutes

Cook Time:

15 minutes

Total Time:

35 minutes

Yield:

100

cookies

1

x
1 ½ cup

whole wheat flour

½ cup

unsweetened cocoa powder

½ tsp

baking soda
A pinch of salt

30g

milk chocolate

80g

nutella

120g

butter

1 ½ cup

sugar

2

eggs

1 tsp

vanilla

¾ cup

m&ms
Instructions
Preheat oven at 165C.
Whisk together flour, cocoa powder, salt and baking soda.
Melt chocolate, nutella and butter in a bain marie or boil a water in a pot and place this bowl on it so that chocolate melts.
Let it cool.
Mix sugar, eggs and vanilla with a mixer in a large bowl until combined well.
Add in chocolate mixture and mix.
Add flour mixture into the bowl and mix with a spatula.
Place baking sheets in oven trays.
Drop dough onto baking sheets by ½ tsp leaving about 1 ½ inches space between each.
Place m&ms on each.
Bake them until they are flattened, 15 minutes.
Let the cookies sit on the baking sheets for 3 minutes as they will be still soft.
You can place more m&m candies on them when they are still soft since they will double in size.
Then take them on a wire rack to cool.
Notes
Note: Don't bother shaping cookie dough when you drop it on baking sheets, they will get flattened just as you desire when baking.
IF YOU LIKED THIS RECIPE, YOU WILL LOVE THESE TOO: